Telehealth awareness week is celebrated to highlight the presence of telehealth in today's healthcare. This is no different in veterinary medicine where veterinary clinics continue to work to consider integration of telehealth options into their veterinary practices.
To better understand this concept in veterinary medicine, here are the definitions of a few important terms: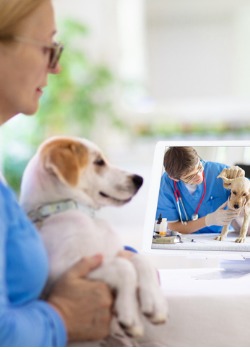 Telemedicine is a subcategory of telehealth that includes the use of a tool to exchange medical information electronically to improve a patient's clinical health status. The appropriate application can enhance animal care.
Teleconsulting is a subcategory of telehealth where the general practice veterinarian uses telehealth tools to communicate with a veterinary specialist on a case.
Teleadvice is providing any general information concerning prudent future actions that aren't specific to a case. This is general advice.
Does your veterinary clinic provide telehealth services? Clinics around Indiana are in various stages of learning more about these services for the patients and clients and learning implementation. Telemedicine is not a one size fits all program for clinics and for patients. Ask your veterinarian what they offer in their practice as another way to continue to partner with your veterinarian on the care of your pet.